ADD/ADHD, Dyslexia and other Learning Difficulties
ADD/ADHD, Dyslexia and other Learning Difficulties – Client Stories
Crossinology's Brain Integration Technique was originally developed specifically to address ADD/ADHD and dyslexia. It is remarkably and consistently effective for these issues, whether or not there has been an official diagnosis. Some of our clients have taken the time to share their "before and after" stories because they want others to know how much BIT transformed their lives or the lives of their children (or both!). Many of these client stories include follow-ups from as much as five years later.




"I have brought two of my children to Laura for brain integration. My oldest son went at 11 having long struggled with ADD and dysgraphia. The term "smart but scattered" applied perfectly to him. We had spent thousands of dollars on tutoring and other therapies aimed at improving right/left hemisphere communication before I learned about brain integration. I wish we had started with Laura and saved our son the years of frustration and self-doubt, and ourselves the cash! He is now perfectly independent in middle school and consistently on the honor roll.
I brought our middle son to address anxiety and stress that was hampering his academic performance and causing undue pressure on him and our entire family. Prior to brain integration, he was prone to melting down multiple times a day. The last time I saw him lose it without legitimate provocation was the night before brain integration began. He will gladly tell anyone who asks that he feels much more even-keeled after getting his brain integrated! He has made dramatic improvement in the academic skills that he was previously avoiding altogether and is also on the honor roll.
To say the results have been life-changing for our family is not an exaggeration. I have recommended brain integration to many friends experiencing a variety of issues and all of them have found dramatic changes for problems that previously seemed impossible to resolve. I am so grateful to Laura for all she's done for our family."
~ Elizabeth Spilotro

Client Stories…
For Parents of College-Aged Kids

The following client story could have been written by the parents of many college age clients – especially young men – who found high school increasingly too difficult and who dropped out of college because it was more than they could manage. They then tried and failed in the job market, even at minimum wage jobs. They became discouraged, if not depressed, and saw little hope for the future. Their parents tried many approaches that didn't help, and were feeling out of options. Then they came for Brain Integration, and saw dramatic change. Here is a typical example. These parents prefer to be anonymous, but they speak for many others.
As parents in the medical fields we were concerned that medications may have been our only hope for our son suffering from depression. After high school he struggled and withdrew from NAU his freshman year. Then he withdrew from Yavapai College. After some low level jobs he eventually sunk into a withdrawn depressive state.

Luckily we found Prescott Brain Integration. We now realize that his issues were largely due to undiagnosed learning difficulties that were making school and life very difficult. He was treated by Lynn Leu in December 2015 and has returned to himself. He now is working in a job with potential and attending Yavapai College. His thought process is greatly improved and his attitude is fantastic. He says "I'm back!"

Thank you Lynn.
Michael – Learning Difficulties, Auditory and Visual Processing Disorder, ADD (inattentive)

Michael came to Prescott Brain Integration when he was 9 years old. His mother had just begun homeschooling him because he was falling further and further behind at school. In the middle of 3rd grade, he was unable to pass the beginning of 2nd grade math test. He was a strong reader, but struggled with writing and expressing ideas.
From Michael's Mother:
My son, let's call him Michael, is a happy, fun-loving, caring little person. He is very social, and he loves playing the piano and singing. As a toddler, he began talking a few months later than his older brother, but it did not concern me at the time. I started to notice some language delays around the age of 2½. Michael was very expressive, but he had a difficult time with answering questions, even simple ones. It was subtle, but the mom in me knew that something was slightly off. The delay became more apparent when he started preschool and was in the same room with 20 kids his age. He was slow to learn things like colors, even though I worked with him one-on-one.

The preschool recommended speech therapy, and we found a wonderful therapist that worked with Michael for about 2 years. This seemed to help with his expressive language over time, but his learning was still slow. I began working on letters with Michael when he was 4. When he started 1st grade, Michael could read all the letters, but could only write about half of them. Many letters were backwards. Through 1st and 2nd grade, Michael's learning remained about the same. He learned to read very well, but struggled with writing, expressing ideas, and learning new concepts (like subtraction with carry-over). He also had a very difficult time completing assignments at school and was often sent home with almost a full day's worth of work to complete at home. He was absent-minded in class, unfocused, and although very well-meaning and kind, he often interrupted the teacher without realizing it.

As school became more difficult, it became clear that Michael needed a major change. We began homeschooling in January of his 3rd grade year. I had read about Prescott Brain Integration, and even though my evidence-based mind was skeptical, my heart told me it was the right place to begin. Since we live out of town, I scheduled a 3-day intensive session with Laura. Michael and I headed to Prescott in February of 2016. The therapy itself is easy and relaxing. Although it was a bit boring at times, Laura offered some small gadgets to help Michael pass the time. Laura is calm and centered, and I cannot thank her enough for transferring so much positive energy to my little guy.

Before and After:
I honestly wasn't expecting that much from the therapy. I figured if it helped Michael a little bit, then it was worth it. I was expecting any change to be gradual, like other therapies that we have done. That is not how it happened with Michael. As soon as our last day was over, Michael asked to go to the bookstore to buy a journal. He started writing immediately, and wrote almost non-stop the entire ride back to Phoenix. He wrote ALL of his letters the correct way, and his handwriting was the best I have ever seen it. He wrote in his journal every day for about 3 weeks.

This was a complete turn-around from a kid who did not like writing at all. It also seemed much easier for him to get things done. He took over simple things like finding his clothes and getting dressed. In the past, it was always a slow struggle to get him on track. In April, his tutor gave him a writing test and compared it to the one she gave him in January. She called me in for a meeting to show me the two samples. She said, "I'm not sure what happened here. In January, he is writing like he is dyslexic and in April he is not. This just does not happen." I told her about BIT and she has since referred two kids to Laura.

Back to School:
In August, Michael decided to go back to school for 4th grade. We had toured several small private schools, but he chose our local public school with over 900 kids. I was a little concerned because he was quite anxious when he was younger, and I didn't know how he would react to the environment. It has been nothing but a positive experience for all of us. He tried out for choir, singing on his own in front of 40 kids, and he made it. He is learning like never before. We are working on his times tables because he missed so much school last year, and he is learning them as we go, no problem. And best of all, he is passing all of his classes with A's and B's! He has gotten an A on every math test so far. Michael still struggles with focus (but not nearly as much as before), and his auditory and visual processing levels are still low for his age (auditory processing better than before; visual processing only tested after). So, we are continuing to do some therapy for both of those areas. He is not on any medications. Michael also has some food sensitivities, gluten and eggs that we know of. His focus is much better when he avoids them completely. He also reacts to food dye and the preservative sodium benzoate. So, we work on feeding him a healthy diet that does not include these foods.

In the meantime, I can honestly say that BIT with Laura was the best thing that I have done for my son who struggled for over 7 years with language and learning difficulties. Until last week, I have never left a parent/teacher conference without a good cry during or after. As we sat at the table, the teachers just smiled and told me that Michael had the highest reading level in his class and was nice to everyone and fun to have around. At that time, I didn't feel like crying at all. It was just a normal day for a normal mom. Writing this all down, and realizing how far we have come, perhaps I'm due for a good cry after all.

- Kristine, Phoenix
Trisha Anderson – Adult ADD
Trisha is a working mom who has struggled with ADD all of her life. She is now going back to college to take the classes needed to begin nursing school. She described herself as having "the worst memory ever," being impulsive and impatient, and being unable to concentrate. Watch her video interview and read her letter below. Be sure to see her updates after the letter.
Dear Lynn,

It has been three weeks since I came to see you for Brain Integration Technique, and I'm doing great! I'm remembering everything. It is amazing at school because now everything is so easy. Before it was like I was reading assignments in a foreign language, and nothing stuck – I couldn't remember anything. Shortly after BIT I studied for a big test in my Biology class, which I had been finding very difficult, and I scored extremely high on the multiple choice section and did amazingly well on the three essays and got a total score of 106 out of 111 – the second highest grade in the whole class.

The changes at work are amazing, too! My great friend and boss, an attorney, had of course noticed my exceedingly poor memory before BIT, and immediately after BIT she was so surprised that I was remembering everything. She sees a huge difference, including that I'm a lot calmer and don't get freaked out anymore by difficult things happening in my life.

I'm doing extremely well at remaining calm and being able to concentrate on anything I need to pay attention to. Before I couldn't even watch a 30 minute TV show without jumping up every 5 minutes to do something else that would have popped into my mind. I took my girls to the pool last week, and normally I would be really restless and impatient after 30 minutes. Instead I sat calmly and concentrated for two solid hours on my notes from class.

I'm noticing changes in my emotional control, too. I used to argue with my Dad every time we got together, and this has always bothered me. The other day I spent three hours helping him put together a greenhouse. I was able to easily follow the instructions and concentrate and think logically, and when he and I would not agree on something, instead of blowing up, I'd calmly bring his attention to the directions. We didn't have a single conflict in three whole hours. This is truly a first.

I feel like a changed person! I feel more complete and am able to think with more clarity than ever before.

Trisha Champlin
A Month Later:
Trisha sent me a text to let me know that on her next big exam she scored 125 out of 126 and had the top grade in her class, AND that this formerly challenged speller got a bonus point for correctly spelling Nicotinamide Adenine Dinucleotide!

One Year Later:

Trisha let me know that she is still the top student in all of her classes – she had literally gone from the bottom to the top and stayed there. She also received a significant promotion at work. And she accomplished these things while successfully dealing with difficult issues in her personal life.

Isaac – Child ADD/ADHD and Problems Resulting from Premature Birth

Isaac weighed less than 3 pounds at birth, needed oxygen and a feeding tube for three months, and was growing up with numerous debilitating issues. This letter is from his mother, after she brought him for Brain Integration at age 7:
My son is extraordinary in every way. He is a determined young man and has been so since birth which was a good thing because he had to overcome some tremendous hurdles. He was born premature at 29 weeks gestation, weighing only 2lb. 11 ozs. He needed oxygen for 3 and a half months, a feeding tube for 3 months, and was left with various physical problems one of which was labeled ADHD by his physicians.

School was particularly difficult because he could not sit still and focus for any length of time. An adult had to sit with him to keep him on task. He had an "I can't" attitude before trying something new and when he did try, he was quick to call it quits. He was impatient and unreasonable with his siblings and my husband and me. Temper tantrums always ended with, "I'm so stupid!"

Things were escalating with my son and I was at wit's end. Our family had known of Brain Integration for about two years, but it took some truly difficult circumstances to surface in our son's life which forced me to reevaluate what options may be left that we hadn't tried, it was then that we decided to call Laura Fields. Just speaking to Laura on the phone for the first time was a vital step in restoring a hope that had been dwindling for some time; her optimism was such a comfort in such a difficult time for our family.

Since Isaac was seen by Laura, he has so many notable improvements, many of which, I never anticipated. He is able to focus and listen when people speak to him. He is generally able to look in their eyes and has an overall sense of awareness that was not possible for him in the past. Isaac's handwriting improved, when Isaac concentrates on his work he is able to write very nicely. In the past his handwriting was nearly impossible to read. His reading comprehension is substantially better and he recalls facts from literature, when before, he was unable to answer questions about what he read. Some learning assignments strike such a chord with Isaac these days that he brings them up in conversation outside of class because he is genuinely interested, which is something I could have never imagined before Brain Integration. Relationally he is much more successful than he once was. He is better with his peers and siblings than he was in the past. Isaac has been affected by Brain Integration both on a personal/relational level as well as academic.

We are forever grateful for the Brain Integration Technique and the growth that it has allowed for our incredible kid!"

Isaac's story, before and after Brain Integration Technique:

Robert Zieve, MD – Adult ADD
Robert Zieve is a gifted physician who was having trouble staying focused and completing tasks. He recognized that he had to work harder than his colleagues did, and he often felt overwhelmed. With his advanced training in chronic neurological disorders, he saw good results from Brain Integration Technique, and he was hopeful that it could be beneficial for many of his patients. He came for Brain Integration to find out more and to see if it could help him overcome his own difficulties.
After Brain Integration, it was much easier for him to concentrate and stay focused. He did not feel overwhelmed, and he was less impulsive. He was able to budget time more easily. His ability to multi-task and to stay on point in a conversation greatly increased.
Here are his comments two months after he completed Brain Integration:
My first morning of Brain Integration I kept asking myself what I was doing here. But by the middle of the first day, I started feeling shifts and started having fun, which continued throughout the second day. Now I notice that I catch myself right away when my mind starts jumping around, which makes it easy to concentrate and stay focused.

I am more organized and I don't leave things hanging. I have a different relationship with time – I can budget time more easily and I don't feel overwhelmed. While I can still be spontaneous and playful, I'm not impulsive. And my reading comprehension improved significantly, which made me realize how much harder I have had to work than most people do to compensate for this, especially during college and medical school.

Overall, I'd say that I feel more cohesive. By that, I mean that I can move fluidly from one thing to another in a way I couldn't do before. I can stay focused on the main point without getting lost on some interesting branch. For example, I moderate a weekly radio show, and I have really noticed how easy I now find it to have a fast paced, multi-faceted conversation with a guest and still be able to bring the conversation back to the central theme of the show for my listeners.

I would highly recommend Brain Integration for anyone who has difficulty with learning, organizing time, thinking clearly, and remembering the often significant volumes of reading material that many of us need to digest in our lives. Brain Integration moves us much higher up the ladder of having healthy functioning brains.

I found Dr. Leu to be a highly effective and supportive practitioner. She made this experience fun, interesting, and encouraging.
Mario – Child ADD
Reading was very difficult for Mario. His parents said that he had no short-term memory. He had trouble concentrating, and he could not stay focused.
After Brain Integration, Mario was able to stay focused during homework, and his spelling and reading comprehension improved. Instead of repeating information over and over, Mario was now able to learn after going over the material once, and he remembered it the next day.
Six weeks after Brain Integration, his dad told Laura:
Overall, Mario is a totally different kid. He is a lot more focused during homework time. He comprehends what he reads and is spelling much better. Before Brain Integration, homework time was a struggle, and it took many repetitions in order for him to "get it" and even then, he did not retain the learning when we asked him the next day. It was like starting over. Now he gets it the first time! There is definitely a big improvement.
Jennifer – Teen ADD
Jennifer was unable to pass the AIMs in math and was in danger of not graduating with her class. Her mom is a pediatric nurse practitioner who was initially more than a little skeptical about BIT. She described her 17 year old daughter as "a slow learner who needs lots of repetition and gets frustrated and overwhelmed because of how super hard she has to work". Jennifer was unable to pass the AIMs in math and was in danger of not graduating with her class. After several conversations with Lynn, her mom decided to give BIT a try despite her skepticism. This is what she had to say a semester later:

Jennifer had Brain Integration in August of 2013. Fall semester was the best she has had for many years. She had all As in the first quarter, which is amazing – even in algebra, where her test scores were sometimes Ds and Fs, which she had to rely on homework to pull up to a C. She is now doing so much better on her tests – her first math test after BIT she got an A+. She used to study so hard and with a lot of help from me, hours almost every night, and now studying is so much easier and she has been doing it without any assistance from me – I have been totally uninvolved!

When I asked her a few months in to the semester how it was going, Jennifer said,
"Now I can read something once and remember it – before I read it multiple times and didn't remember it."

The really big news is that she passed AIMS in math! The last time she tried before BIT she scored "Falls Far Below" the requirement. We were hoping that this time she would score "Approaches" the requirement, and instead she scored "Meets" the requirement fully.

Now she can celebrate knowing that she will graduate with her class. I am so thankful that we did this."
Ruby McFarland – Child ADD & PTSD
Ruby was repeating 4th grade when she came for BIT, and she was struggling just as much the second time through.
Ruby had been adopted by a loving family at age 5 after an early childhood with challenges no child should have to face. Despite an abundance of love and support for the last five years since her adoption, Ruby was having a hard time with everything – at school and in life. She couldn't pay attention, she was impulsive, and she couldn't read well. Her eyes noticeably jumped around the page and she needed to keep her fingers on the word she was trying to decipher. Nor could she remember much of what she read. Math was a mystery. Ruby also had big problems with lying and stealing, despite her efforts to stop. And she still wet her bed almost every night.
During the test drive at the end of BIT, when Ruby went back to reading, the change was striking. After reading the first few words, Ruby put her hands in her lap and began to read fluently and with expression. A few sentences later, she looked up at me and said, "I know you might find this weird, but I never realized before that the words don't move on the page." In addition, her backwards digit span jumped from 3, which is about what we would expect for a 4-6 year old, to 5, which is what we expect for a child 10–15. Her visual memory "turned on," which is why math facts, spelling, and reading comprehension became easy for her after having been next to impossible.
Ruby's teacher noticed the first day after BIT that he had not had to ask her a single time to stop looking out the window – that she paid attention to him for the whole day. She started getting As and Bs, and is now on the honor roll. Ruby's Mom says she is now able to think logically about consequences, which she had been unable to do before, and that she has stopped stealing and lying. Ruby is also thrilled to have stopped wetting her bed. Bucky Bates, a relative of Ruby's and the principal of Lincoln School, says he immediately noticed huge changes in her social skills and her ability to pay attention and stay focused during the rodeo practices he takes her to.
Three Years Later:
I recently had occasion to speak with Ruby's mother, who said she was "extremely pleased to report that Ruby continues to do very well and is now "a happy and normal teenage girl" who has gotten all A's and B's since Brain Integration."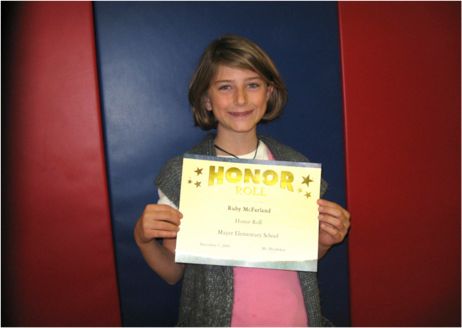 Michelle – Teen ADHD & PTSD
Michelle came for BIT at age 15 for PTSD and severe ADHD for which she was unable to take medication because of side effects. She has had extreme learning difficulties and behavioral issues all of her life. She is currently in therapeutic foster care.
This is what her therapeutic foster parent had to say about school six weeks after BIT:
If I had to choose one word, it would be "amazing". There have been amazing changes at school. Her teachers have congratulated her, and have a very different attitude about her now. In the past, she couldn't really concentrate or actually do the work, so they didn't really grade her – if she just stayed in class, they passed her. Two days after BIT I started getting calls from her teachers, one of whom said "What happened to her? I don't even know who she is!""Within six weeks she brought all of her F's up to B's. And I haven't had to go to a single teacher's conference since BIT, compared to 4-5 per month before. Michelle told me that she feels "normal" for the first time. She has stopped saying "I'm a loser", and sees that she doesn't need to be quirky to get attention.
This is what Michelle herself had to say about eight weeks after BIT:
As far as school goes, it's the best thing ever. I can focus really well. Teachers are complimenting me. I can really understand math – I'm getting a B instead of an F. I'm enjoying reading books that I like and actually remembering what I read. For the first time in my life, I like myself!
Greg Raskin – Adult ADD
Greg Raskin is a businessman (owner of Raskin's Jewelers) who saw the changes in his son after BIT and decided that he wanted to address his own adult ADD. Here are his comments two months after BIT:
This is a whole new world! My work world used to be chaotic, last minute. Now I don't feel pressure, since I can easily categorize and prioritize what needs to be done, and then do one thing at a time. No more waking up at 4am feeling like I need to get in to work early to try to catch up. I can use logic to focus, to pay attention. My memory for details and reading comprehension is awesome. This is a new way of thinking. My confidence level has skyrocketed. And all this without ADD medication, which I stopped taking the first day of BIT.
Andy – Teen ADD



My name is Andy and I am a 19 year old college baseball player. Before BIT, I had trouble with focusing in general, motivation, comprehension, and I lacked confidence. I also was very shy, had trouble remembering directions, and I blamed others instead of taking responsibility for my own actions.

After BIT, almost all of those problems turned around. I have much more focus in the classroom and on the baseball field. My mind doesn't wander off anymore like it used to. My time management has significantly improved. I am able to accomplish all of the work that needs to be done in a set amount of time, without worrying about getting distracted and losing my motivation. My coach gave me plenty of opportunities to succeed this past season, because he knows that now I can handle the pressure of almost any game situation. I am no longer timid or shy; I speak my mind without worrying about what others are thinking. I have much better reading comprehension and I can remember things off the top of my head about ten times better than I could before BIT. My organizational skills have also significantly improved. I am no longer just throwing everything in piles in my room and baseball locker; I take the time out of the day to organize and arrange my things so it is much easier to find everything. Another thing that has improved is my relationships with my family, friends, and teammates. It is very obvious that something changed with me and it is definitely for the better.

I am very thankful to Mrs. Fields and BIT, because without it I would still be the same old Andy who had trouble with many areas of his life.
Nathan Wasserman – Teen ADD
Nathan came for Brain Integration Technique early in his junior year of college. He had struggled through high school and so far in college with reading comprehension, completing projects, keeping things organized, and concentrating. He described himself as impulsive, and said that he had difficulty making decision because "I feel like my head has been filled with cotton. All the cylinders fire, but mass confusion ensues when a decision needs to be made."
Two months after BIT, Nathan said he was doing really well and that he was having a good semester. He was planning ahead on homework, and not procrastinating. His reading comprehension was "through the roof" and he could remember details days later. Nathan said his impulsivity was pretty much gone, and that his decision making and organizational skills were for the first time supporting him in his school work and his life.
People often ask if Brain Integration Technique lasts. Here is a letter from Nathan's mom, sent about two years later:
May 24, 2012

Dear Lynn,

Nathan asked me to send a college graduation announcement to you. We all feel that you made a significant positive difference in his life, and we wanted to share this happy news with you.

The dramatic changes that happened in him because of Brain Integration Technique, like being more organized, increased reading comprehension, and less seasonal depression, were instrumental in helping him achieve this important milestone. We have all noticed how he was able to complete his last couple of years of schooling with much greater joy and less struggle than he would have otherwise. I am still amazed at how he stayed on top of his assignments, often enthusiastically completing them well ahead of the deadlines.

BIT didn't "wear off". On the contrary, I have seen it manifest in new and different way as Nathan matured and new challenges came into his life. It is truly a part of him.

Please accept my heartfelt gratitude for your remarkable talent and the life-changing gift you brought into Nathan's life.

Most sincerely,

Carol
Jefferson Hammel – Adult ADD
Jefferson is an accomplished artist in his early 40's who has been plagued with ADD issues all his life.
When I first heard about Brain integration Technique (BIT) I was awe/dumb struck because every life issue Laura told me this work could address and reverse, fit me exactly. After filling out the initial intake form it was clear that I needed even more help than I realized during our first conversation.

The eleven hours, spread over three days, changed my life. With 41 years of focus, time management, organization, reading comprehension, social anxiety and other difficulties well established, I was skeptical that anything other than great time and more whacks-on-the-head could help; was I ever surprised with Brain Integration Technique.

Laura's gentle approach using this remarkable technique has cleared me of every issue I originally noted or tested low in our initial evaluation. Most of my difficulties were turned around 180 degrees after her time with me. Some of the very deep-seated patterns I had been "wedded" to for decades are changing and improving on a daily basis.

Thank you, Laura. I only wish I could have experienced this work when I was a floundering child instead of a struggling adult.
Susan Adult Dyslexia
Susan came for BIT at age 60 because of significant learning difficulty that had made both school and life challenging, and the news that BIT had corrected similar issues for her sister. Susan works as a cake decorator at a large Fry's in Phoenix, and while she is quite artistic, she struggled to remember people's names long enough to write them on a cake, or keep in mind the design for the border, or understand how to place orders for the department. Six weeks after BIT, here are her comments:
I've had really big changes since BIT – it was worth every penny. For starters, I now know my left from my right, which has always been a problem. Decorating cakes is so much easier – I can remember the border patterns, and I don't have to look twelve times anymore to remind myself how to spell the name I'm writing on the cake. And I hear and think better at work. My new manager asked me to order all of the products for our department while he went on vacation. I had not been able to do this in the past, despite repeated and detailed directions from my previous managers. It was just too complicated. My new manager gave me a very cursory overview of how to do it before he left, and this time everything just snapped into place. It was shockingly easy the first time. Now I am the official back up for my manager, which is nice for the whole department.

My house is finally clean and uncluttered. Now I keep everything neat and organized and it stays that way – I've de-cluttered my closets and drawers. Reading is easier, and I can remember what I read. I have less trouble with driving and finding my way. I've joined some social things, and I am getting going on things I've wanted to do for a long time, like Weight Watchers. Now it is easier to follow through.

Best of all, I'm happy! I'm definitely more cheerful and more confident. I feel good about a whole lot of things. BIT is the most wonderful thing – saving people's lives one person at a time. I'm just pleased in every way. I can't say enough. I notice that I want to contribute more to life now.

PS: I love the atmosphere you've created in your office. It is so warm and welcoming, and with such beautiful views – the perfect situation for feeling comfortable.
Two years later, here is an update from Susan:
Dear Lynn,

Hope all is well with you. I have thought of you so often since you gave me the tools to change my life. I actually have started singing all the time like I did as a kid. Plus I have lost 30 lbs – I remember you saying that Brain Integration could help me be able to keep weight off. Thanks a Million.

Susan Z.
Steve – Adult ADD & Aspergers
Steve is a mature man with an ADD and Aspergers diagnosis. He came for brain integration because of the issues he was having in graduate school and in his marriage. Here is what his wife had to say a month later:
It's been a month since Steve had his treatment. I could see the difference in him immediately, but the change was so dramatic I wasn't sure it would last. Steve's struggle with graduate school now is in the normal range of "this is a pain," rather than "I have no idea how to do this" accompanied by panic and self-defeating behavior. He is organized and better at multi-tasking than I am. His ability to think globally and his memory have improved markedly. He has great patience with himself and he has been doing things around the house in organized, methodical ways instead of ignoring the chores or complaining. All this is on top of his improved reading comprehension and writing abilities. Not only that, but our relationship is getting better because he demonstrates empathy that he didn't express before. The best part is that his self-esteem is increasing with each day he experiences success. He still has Asperger's, of course, but many of the symptoms we attributed to that disorder have disappeared. Thank you so much for helping him, Lynn. I don't have the words to tell you what it has meant to me…and to him.
Ashleigh Enriquez – Adult Significant Learning Difficulties
Ashleigh was in her early 20's when she came for Brain Integration. When tested to qualify for special assistance for students with learning disabilities, the testing psychologists found that she had a very slow processing speed (two standard deviations below her full scale IQ), significant struggles with written expression, and very big challenges with rote memory.
For me, BIT made things easy that used to be very difficult. All my life I have struggled (successfully) with a learning disability that affected learning memory and reading skills. I understood the definition of words but couldn't recognize them when I saw them in a book. Spelling even simple words was virtually impossible, as was learning a foreign language.

Now it all just works, and I can't even remember why I was confused to begin with. It's like an "ah ha" moment when everything just clicks. And I was able to "clear" a number of emotional memories that used to bring a lot of anxiety into my life. Now I still remember that these things happened, but they have lost their power to ruin my day or take control of my mind or body.
Five Years Later:
Since Brain Integration in 2007, I have finished my Master's in Health Promotion Management from American University, spent a year in Namibia, Africa, teaching science, math and health to children, and am now living and working in Washington, DC. All of the changes I wrote about five years ago have continued- brain integration definitely lasts!

The most profound thing is that I still feel that in order to talk about or even notice the changes, I have to think very hard or else have someone point them out to me. That is because all the things that changed now feel so natural- they are my "new normal".

My favorite feeling is being able to let go of emotional trauma. I can still get riled up about something from the past, but when I decide I am done, I can actually be done, rather than have the feeling take over my day or my week. I wish for everyone the same sense of natural ease in using a capable integrated brain for academic work and life, and the freedom of having emotional control. For anyone searching for this, I recommend Prescott Brain Integration!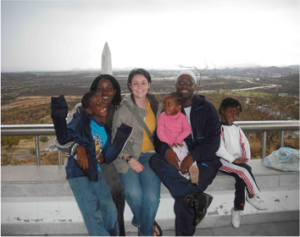 Grace Terry – Child ADD
Grace was 10 years old and in fifth grade. She was well below grade level before BIT, and was failing language, reading, spelling, math, and history. Before coming for BIT Grace's mother emphasized how hard she works on her homework each evening. "We spend hours on Grace's homework, she tries so hard, puts so much effort into her studies and she still doesn't pass. It breaks my heart."
Six weeks after BIT, Grace's mother had this to report:
Grace has completely turned her grades around. She is excited about reading now, we were watching 'Robin Hood' with sub titles scrolling across the bottom of the screen. Grace was not only able to keep up with the sub titles, but she was easily reading the words!
Her mother explained that math had not yet been addressed with her tutor although her math teacher commented, "I am noticing a big difference in Grace's attitude, she is happy now and grasping concepts that she was unable to grasp before. What is that technique you did for her?"
Grace was part of a production put on by her school with around 200 people in attendance. Before BIT this would have been daunting. Her mother reported,
Grace went up to the microphone and spoke with clarity, her confidence was evident and she engaged the crowd. This is very different from last year's performance.
Mom also noticed that Grace had become more assertive at home, "She is sticking up for herself with her brothers now. She used to just take the teasing without responding. Grace is just blossoming in every aspect!"
Three Years Later:
Donna Terry, Grace's Mom, recently told Laura that she was "thrilled to share Grace's fabulous results from this amazing work. Grace is in 8th grade now, and she made honor roll this semester. "Thank You Again!"
Lynne – Adult Learning Challenges
Lynne is a 59-year-old woman who came from Seattle for BIT because she saw the changes it had made for her daughter. Trained as a scientist, Lynne has always been logic (left brain) dominant and has had very little access to her Gestalt (right brain). She has had to "work around" her learning challenges. Here are her comments six weeks later:
I'm doing really well. I'm reading like crazy – it's lots easier. In the past when I would sit down to read I would become restless and uncomfortable. If it was late at night I would fall asleep after one page. Now when I read I feel very calm like I could sit still for hours. Even when I am tired I stay awake and read many pages. Best of all I enjoy it and I really remember what I read. The other day I was at a mother/daughter meeting and someone started quoting something from an article and I said no, that's not what it said, and then I rattled on and on about what the article actually said. Everyone was amazed, including me.

Now I can remember phone numbers and not reverse digits. I often used to have to dial a number three times before I got it right, which was frustrating. Now I just look at the number and I can remember all seven digits and dial them correctly. And it is so much easier to do paperwork. Most of my working life I did laboratory work… no problem there. There are a lot of procedures when doing laboratory work to keep you from flipping things around and mixing things up. But this is not the case when I did office work. I would become easily confused and stressed out… like writing this testimonial. This would have taken me weeks to do and would have been extremely short and to the point. In fact you might have never heard from me again. Now when I sit down to do paper work I am much more relaxed and get through it easily and efficiently. I didn't realize how hard things had been until they stopped being hard.

Having access to both sides of my brain and not just logic is really making a big difference. Now my intuition is available to me. I'm seeing the big picture, and have the ability to see what is a good decision. In the past I did not trust my judgment and tried to make all my decisions using just logic. This is very difficult and as you get older it is virtually impossible to operate that way. I'm also enjoying simple things like sitting outside and watching the birds. It's like the first time I really saw them, or the way the sun came through the trees – there is a whole part of the world out there that I was not even seeing, much less relating to.

I'm having more fun, and not dragging my childhood history around with me the way I was. I feel like I have a real life as a whole person. I'm making more jokes and laughing more. My social life has changed, in that I'm easier to be with and people talk to me more. I'm more in touch with what is fun for me to do with my husband and family.
Annie – Teen Dyslexia
Annie was a high school junior at the time she came for BIT. She had been diagnosed in fourth grade with dyslexia and possibly other learning difficulties and was having considerable problems in all of her classes. Here is her report two months later:
The biggest change from brain integration is that I can read without my eyes jumping around, and I can remember what I read. Besides this, my focus is much better – I can concentrate without difficulty. And I can listen well, even when I am taking notes. Before if I tried to take notes I couldn't listen. I am doing much better in all of my classes. Chemistry had been the hardest – I was failing every test and now I just got a B on the hardest test of the year. I get assignments in on time now – in fact I don't procrastinate about anything these days. Also I am much better at studying for and taking tests. All of my teachers have noticed and commented on these changes. I'm feeling confident. I'm so glad I did this!

p.s. I also got over some big fears, like swimming in deep water when I can't see the bottom.