Home
Prescott Brain Integration (Crossinology)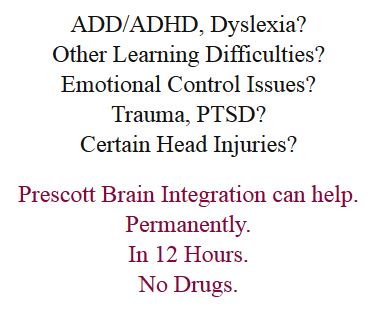 Prescott Brain Integration has helped hundreds of people overcome ADD/ADHD – permanently, in 12 hours, without drugs.
We are one of the country's leading providers of Crossinology's Brain Integration Technique (BIT). In 2007, Lynn was among the first 12 BIT practitioners to be certified in the United States, and the first in Arizona. Laura joined Lynn a few years later, and until recently, also served as a member of the Crossinology Board. This depth of experience makes a difference for our clients!
Brain Integration is an extraordinarily effective way of reliably and permanently correcting the neuro-pathway blockages in the brain that can be the root cause of such problems as ADD/ADHD, dyslexia, emotional control issues, PTSD, and the debilitating after-effects of certain head injuries, especially post concussive syndrome.
Brain Integration Technique (BIT) is a drug-free, non-invasive solution that affects not just academic performance but all aspects of life.
Please note: Crossinology's Brain Integration Technique is NOT related to Brain Integration Therapy and does NOT involve doing exercises.
This is the most significant breakthrough in helping people overcome ADD/ADHD and other learning difficulties that I have come across in my entire career.

- Ron Barnes, Ed.D., Retired professor, author and educational consultant
Brain Integration Technique (BIT) permanently solves problems with:
Focus and concentration
Remembering what you read
Math and spelling
Completing projects and staying organized
Self confidence and resilience
Emotional control and mental functioning in stressful situations, including hair-trigger temper
Post Traumatic Stress Disorder (PTSD)
Certain head injuries, especially concussions (post concussive syndrome) – people who have been left with what they describe as "brain fog" – can't think straight, can't remember, can't find the right words
Problems resulting from premature birth, especially learning difficulties
Learn how our clients have benefited from BIT:
Now, after Brain Integration, WE HAVE OUR SON BACK!!!!! He has returned to a new school and loves it. He is making friends and enjoys his teachers. He is doing great academically and doesn't have the melt downs he once had."- Joell Gall – Child Emotional Control »

I am much more patient and peaceful. I would no longer describe myself as explosive, impulsive or moody.- Ray – Adult Anger Management »

I've tried a lot of things since I came back from Iraq, and I've done everything I was supposed to do, but I never saw a change. The change from Brain Integration is very tangible, and very clear."- Matthew – Adult Traumatic Brain Injury & PTSD »

Three Years After BIT: Grace's Mom, recently told Laura that she was "thrilled to share Grace's fabulous results… Grace is in 8th grade now, and she made honor roll this semester. "Thank You Again!"
- Grace - Child ADD »

Now I can read something once and remember it – before I read it multiple times and didn't remember it."… The really big news is that she passed AIMS in math!… Now she can celebrate knowing that she will graduate with her class. I am so thankful that we did this. – Jennifer – Teen ADD

It is amazing at school because now everything is so easy. Before it was like I was reading assignments in a foreign language, and nothing stuck – I couldn't remember anything… I feel like a changed person!"- Trisha Anderson – Adult ADD »

For me, BIT made things easy that used to be very difficult. All my life I have struggled (successfully) with a learning disability that affected learning memory and reading skills…Now it all just works, and I can't even remember why I was confused to begin with. "- Ashleigh – Adult Significant Learning Difficulties »
Why do people choose Prescott Brain Integration?
It matters who you see. Experience and good results count! Prescott Brain Integration was founded in 2007 and we have seen hundreds of clients. We are smart, caring, experienced professionals with a high degree of integrity and exceptional insight. We are thorough, accurate, and we consistently achieve excellent results that have been proven to last. You can see this in comments from clients, made as much as five years later, in the Client Stories section of this site.
In our practice, we permanently correct the underlying causes of ADD/ADHD and dyslexia, as well as PTSD and certain head injuries. We see people with or without a formal diagnosis, and we are usually able to create permanent and lasting change in just 12 hours and with no drugs.
Our clients typically enjoy an increased sense of well-being, calmness, and self-worth.

Google+ Reviews
Click here to read our reviews.