Our Practices

Lynn's Practice


My clients are teens and adults. About half of my clients come from out of town, including both Coasts and Canada. For this reason I typically see clients start to finish on two consecutive six hour days.
Many clients fly in on Sunday and fly home on Wednesday. Some bring their families and spend time in this beautiful mountain town in the Prescott National Forest. Most of my new clients hear about me from past clients or from other family members who have had significant and often highly visible changes after brain integration.
About half of my clients are students, young men and women who are struggling with their studies or have already dropped out of high school or college because of their learning difficulties. The other half are adults who struggle in their work and in their lives for the same reasons – both struggle with often undiagnosed symptoms of ADD/ADHD and sometimes trauma or head injuries. Both often have significant problems with memory, especially remembering what they read, even if they sound like "good" readers. Focus and concentration seem out of reach and so does completing projects and staying organized.

I frequently get calls saying, "I don't know what you did with Jack, but I see such big changes – whatever it was, sign me up." I also get quite a few referrals from local psychotherapists who have seen their clients who are "stuck" get "unstuck" and be able to move ahead in their lives. I am also now seeing more people who are having difficulty recovering normal brain function after brain injuries, especially concussions.
I am happy to have a phone consultation to discuss your specific situation and needs. My number in Prescott, Arizona is (928) 771-0602.
P.S. If you are looking for Samati Lynn Keehan, I changed my name to Lynn Leu after marrying Mark Leu.
If I had to choose one word, it would be 'amazing…Within six weeks she brought all of her F's up to B's…She has stopped saying "I'm a loser."- Michelle – Teen ADHD & PTSD »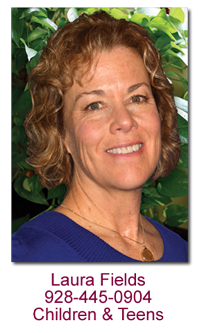 Laura's Practice
I see elementary and middle school children on a flexible schedule that can spread out sessions over a two week period.  A shorter timeframe can be arranged, when appropriate, for older children or for those coming from out of town.
I love getting to know entire families!  What often happens after one child from a family has gone through brain integration, mom and dad are thrilled with the outcome and pretty soon I'm getting calls to schedule another child and in many cases, one or both of the parents.  This is how word gets around, the results speak for themselves!
I am happy to have a phone consultation to discuss your specific situation and needs. My number in Prescott, Arizona is (928) 445-0904.
Three Years After BIT: Grace's Mom, recently told Laura that she was "thrilled to share Grace's fabulous results… Grace is in 8th grade now, and she made honor roll this semester. "Thank You Again!"
- Grace - Child ADD »